India has successfully vaccinated 4 million beneficiaries within a matter of 18 days, this was revealed by the Ministry of Health and Family Welfare in its COVID-19 update on Wednesday (February 3). According to the government data, India completed this task 2 days ahead of US and 28 days ahead of Israel and the UK. "In a significant achievement, India has become the fastest country in the world to reach the 4 million COVID19 vaccination mark. The country has achieved this feat in 18 days," said the statement by MoH&FW.
Indian government claims that the country is among the top 5 countries in terms of number of COVID-19 vaccine doses administered to people. As on February 3, 2021, till 8 AM, more than 41 lakh (41,38,918) beneficiaries have received the vaccination under the countrywide COVID-19 vaccination drive.
In more positive news, across the country, 14 states and UTs have not reported a single death. These include Andaman and Nicobar Islands, Arunachal Pradesh, Tripura, Mizoram, Nagaland, Lakshadweep, Ladakh (UT), Sikkim, Manipur, Puducherry, Goa, Odisha and Assam.
Across the boards, COVID-19 statistics have improved as active cases, positivity rate and mortalities have come significantly down in 2021.
The data said the country's active cases declining further to 1,60,057 in the last 24 hours. The active caseload of the country fell below 1.5 percent (1.49 percent presently) of the total cases.
On Wednesday (February 3) 11,039 new confirmed cases were recorded, the lowest in seven months.
On the recovery side, 14,225 new recoveries were registered which led to a net decline of 3,296 cases from the total active caseload. The total recovered cases now stand at 1,04,62,631. The National Recovery rate climbed a bit further to 97.08 percent, which according to the government is one of the highest in the world.
The gap between active cases and recovered cases is continuously widening and on Wednesday (Feb 3) stood at 1,03,02,574. Among states, 31 states and UTs recorded less than 5,000 active cases which include 19 states that reported less than 1000 cases.
Worryingly there are 8 States and UTs that have a weekly positivity rate higher than the national average (1.91 percent). In south Kerala has the highest weekly positivity rate of 12 percent, followed by Chhattisgarh with 7 percent in the north.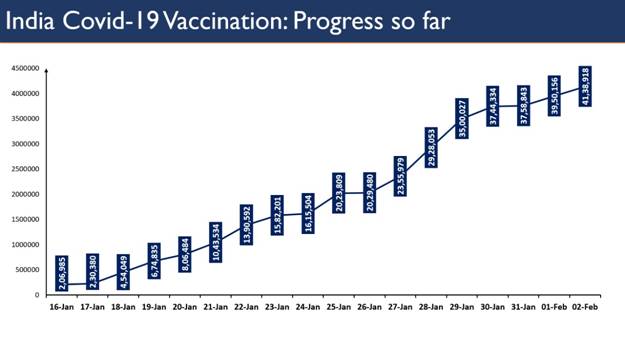 As per data, in the last 24 hours, 1,88,762 healthcare workers have been vaccinated across 3,845 sessions. In total 76,576 sessions have been conducted so far and there has been a gradual increase in the numbers of inoculations, which began on January 16.