Six states namely Maharashtra, Kerala, Punjab, Karnataka, Gujarat and Tamil Nadu have continued to report a surge in the COVID daily cases, as per the data released by the Ministry of Health and Family Welfare on Friday (March 12). The cases reported by these six states cumulatively account for 85.6 per cent of the new cases reported in the past 24 hours. While out of these six, Maharashtra and Kerala cumulatively account for 71.69 per cent of active cases in India.
If we look at the numbers, India on Friday (March 12) reported 23,285 new cases in the last 24 hours. Out of these, Maharashtra single-handedly reported the highest daily new case tally at 14,317. The figure makes up 61.48 per cent of the daily new cases. Maharashtra is followed by Kerala with 2,133 cases and Punjab with 1,305 new cases.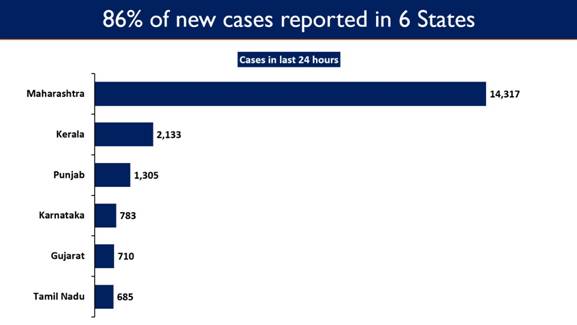 India's total Active Caseload has reached 1,97,237 on Friday (March 12), while the country's present active caseload now stands at 1.74 per cent of India's total positive cases. The data shows that out of the eight states which have been posting high COVID-19 cases daily, five states out of these cumulatively account for 82.96 per cent of the total active cases in the country.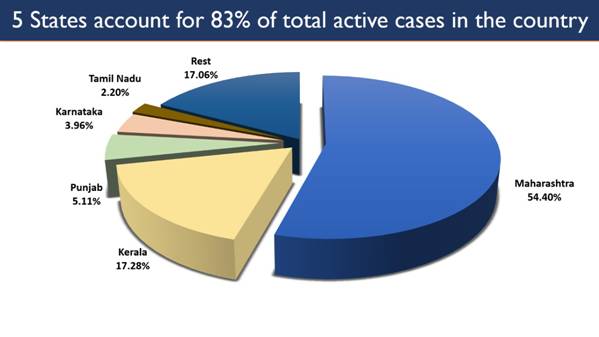 Recently, the Centre rushed high-level Public Health teams to Maharashtra and Punjab to assist in COVID-19 control and containment measures in view of the recent spike in cases in these States. The Government had previously deputed high-level teams to Maharashtra, Kerala, Chhattisgarh, Madhya Pradesh, Gujarat, Punjab, Karnataka, Tamil Nadu, West Bengal, and Jammu and Kashmir to support them in their fight against the recent spike in COVID-19 cases. The reports collected and made by the Central Teams are being shared with the States for further follow-up action.
According to ministry data, more than 2.61 cr (2,61,64,920) vaccine doses have been administered through 4,87,919 sessions, as per the provisional report till 7 am on Friday (March 12). These include 72,23,071 HCWs (1st dose), 40,56,285 HCWs (2nd dose), 71,21,124 FLWs (1st dose) and 6,72,794 FLWs (2nd Dose), 10,30,612 beneficiaries aged more than 45 years with specific co-morbidities (1st Dose) and 60,61,034 beneficiaries aged more than 60 years.