The call for countrywide chakka jam, after major farmer unions like SKM and BKU postponing the protest, saw farmers and their supporters block roads in Punjab and Haryana. Delhi Police detained protestors at Shahidi Park area who were protesting against farm laws as part of the countrywide 'chakka jaam' called by farmers today (Feb6).
The Opposition leader Digvijay Singh appealed to the farmers to come out in support of the protest in Gwalior, Madhya Pradesh, "I appeal to all those protesting against Farm Laws 2020 to come to the streets and join today's 'dharna' between 12 pm and 3 pm."
As a part of the chakka jam, protesters blocked roads in Punjab to support the call given by farmers from 12 pm to 3 pm on Saturday (Feb 6). The protesters had blocked roads from 12 pm to 3 pm at Golden Gate on Delhi-Amritsar National Highway in Amritsar, Punjab.
In Haryana, farmers were seen blocking Palwal-Agra Highway at Atohan Chowk near Palwal as part of their country-wide 'Chakka Jaam' however was letting essential services like an ambulance pass.
In Jammu and Kashmir farmer organizations staged a protest on Jammu-Pathankot highway as part of the nationwide chakka jam called by farmers on Saturday. "We appeal to the govt to repeal these laws. We support the farmers protesting on the borders of Delhi," said a protester in Jammu.
Meanwhile, in Karnataka, Bengaluru Police detained people protesting outside the Yelahenka Police Station in support of farmers' protest. "We are in touch with farm leaders and have requested for smooth traffic flow. 'Chakka Jaam' will be for a limited time, so we will see there is no traffic hazard anywhere. Neither farmers nor commuters should be affected," Karnataka Home Minister Basavaraja Bommaih reiterated on Saturday (Feb 6).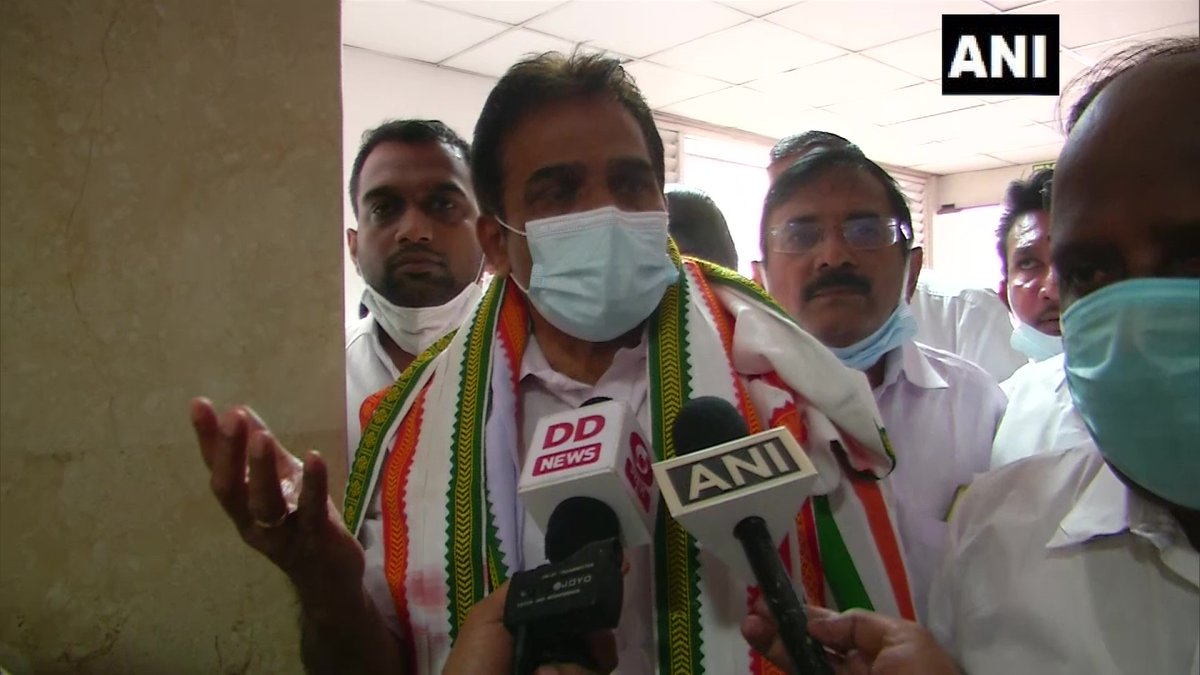 In Kerala, Congress members took out a protest in Thiruvananthpuram to show solidarity with the farmers. Former minister and Congress MP KC Venugopal urged the Centre to resolve the issue with the farmers' and stop 'harassing' farmers, "Farmers are on streets for 71 days, they're struggling. On one hand, government is ready for talks, while on other hand they're withdrawing water connection, electricity connection. They're harassing farmers, how can a democratic govt act like this?" asked Venugopal.
#WATCH: Heavy security deployment at Ghazipur border (Delhi-Uttar Pradesh), in view of protests against the farm laws.

(Video source: Delhi Police) pic.twitter.com/yyQGSj393R

— ANI (@ANI) February 6, 2021
The Delhi Police, in view of the January 26 violence during which protestors stormed in Red Fort and hoisted a flag, have deployed personnel of Security Forces including that of Rapid Action Force at Ghazipur border (Delhi-Uttar Pradesh). Around 50,000 personnel of Delhi Police, Paramilitary & Reserve Forces have been deployed in Delhi-NCR region, as per Delhi Police.
Local police had deployed drone cameras at Tikri border to monitor the law and order situation in the wake of 'chakka jam' call by the farmer unions on Saturday (Feb 6). There is a heavy police personnel deployment across Delhi-NCR including Shahjahanpur (Delhi-Rajasthan) border.
Farmers have been protesting at different borders of the national capital since November 26 2020, against the three farm laws: Farmers' Produce Trade and Commerce (Promotion and Facilitation) Act, 2020; the Farmers Empowerment and Protection) Agreement on Price Assurance and farm Services Act 2020 and the Essential Commodities (Amendment) Act, 2020.
(with inputs from ANI)