The states Maharashtra, Kerala, Punjab, Karnataka, Gujarat and Tamil Nadu have continued to report an increase in daily new case tally, the data from the Ministry of Health and Family Welfare showed on Thursday (March 11). These six states cumulatively account for 85.91 per cent of the new cases reported in the past 24 hours. The country on Thursday (March 11) reported 22,854 new cases within the last 24 hours. With this, the tally of total cases in the country has increased to 1,12,85,561 since the start of the pandemic. Out of this, 1,09,38,146 people have recovered while 1,58,189 people succumbed to the virus.
Among these six, Maharashtra has reported the highest daily new cases at 13,659 (almost 60 per cent of the daily new cases). It is followed by Kerala with 2,475 while Punjab reported 1,393 new cases.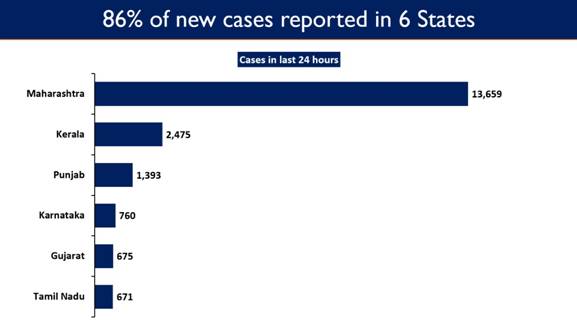 The latest spike in the COVID-19 case has forced the Maharashtra government to order a complete lockdown in Nagpur city. Nagpur is going under complete lockdown for the next seven days, from March 15 to March 21, amid the drastic increase in coronavirus cases in Maharashtra. However, most essential services such as fruit and vegetable shops and milk booths will remain open during this time.
Several other parts of Maharashtra could also go into lockdown due to the recent increase in COVID cases, Chief Minister Uddhav Thackeray indicated. In the past 24 hours, Nagpur reported over 1,800 coronavirus cases.
In India, eight states are displaying an upward trajectory in daily new cases. Amon these too Maharashtra remains at the top with more than 13,000 cases reported in the last 24 hours, followed by Punjab with 1,393 new cases and Tamil Nadu with 671 cases.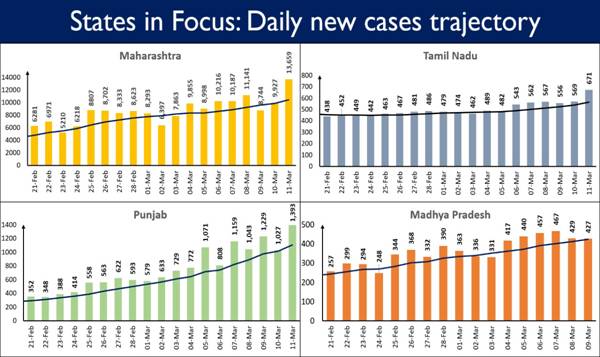 If we look at the change in active cases for states in the last 24 hours, Kerala reported the maximum decline in active cases while Maharashtra has shown the maximum increase in active cases in the last 24 hours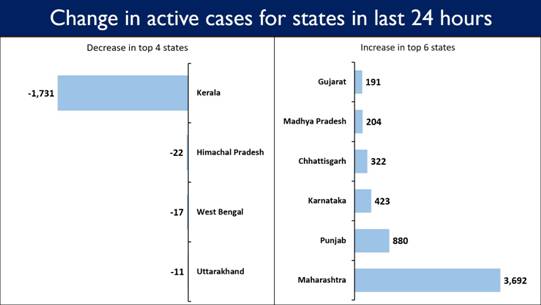 The current active tally of COVID cases stands at 1,58,189. India has witnessed a sudden rise in cases after reporting figures below 10,000 in February. India is currently the second most affected country after the United States.